So, the nights are drawing in, the heating's gone back on, and our Head Chef Chris is currently tinkering with his Autumn/Winter menu, a sure sign that the seasons are turning! But before we can start getting excited about Christmas and all the indulgence that comes with it, Turkey, mince pies, Baileys… – sorry my mind wondered for a second there – we have the small matter of Halloween to get out of the way.
We know this is as much a big deal for some parents as it is for the kids, so we thought this month we'd put together a few naughty, and scary treats you can make at home this Halloween, you know, just to get you in the spirit of things. Of course, if you do make some of these, we'd love to see them so tag us in on Facebook!
One of the main things we love about having a pub in Gargrave, is the sense of community in the village. What's a guarantee every year is seeing the local shops and hospitality businesses adorn their windows with all things spooky as Halloween approaches!
Halloween Spiced Pumpkin Soup (serves 4)
Is there anything better than a warming bowl of soup on a cold night? Well, this one certainly ticks all the boxes, and it's got a lightly spiced sting in the tail as well. Don't worry though, the coconut cream balances the spice perfectly, to leave a lovely warming feel to this soup. It's fantastic for sharing as well, because if you're feeling particularly creative, you can serve it in a hollowed-out pumpkin for that extra special touch.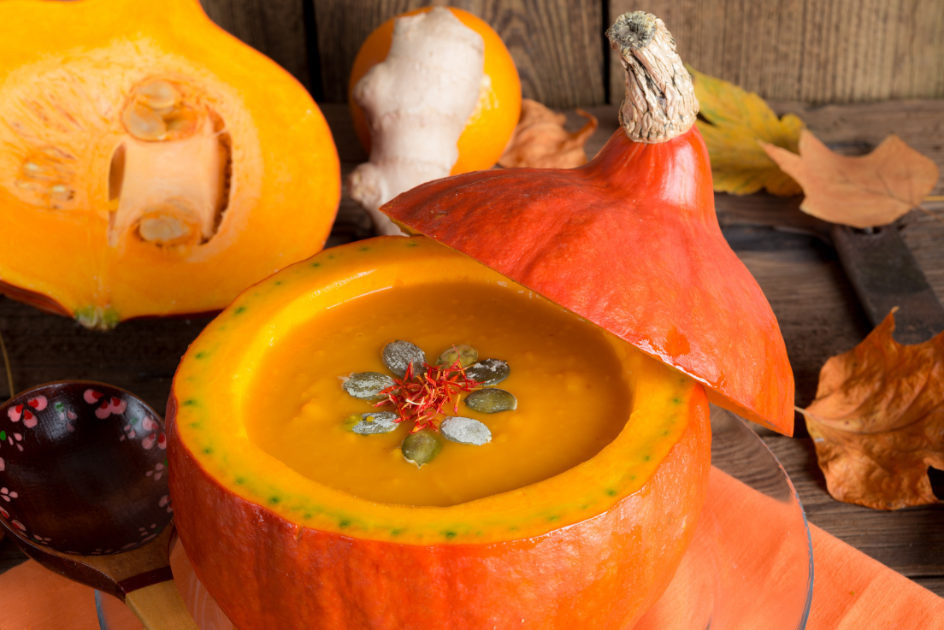 Ingredients
1kg pumpkin or squash, cut into 4cm wedges and seeds removed
1 garlic bulb, halved horizontally, plus a couple of cloves to garnish
1 banana shallot, roughly chopped
1 red chilli, roughly chopped
1 tsp ground coriander
1 tsp ground cumin
Small bunch fresh coriander, stalks and leaves
Olive oil to drizzle
500ml fresh vegetable stock
160ml tin coconut cream
Large hollowed-out pumpkin (to serve)
Saffron (to serve)
Method
Step 1
Preheat the oven to 200°C/180°C fan/gas 6. Whilst that's heating up, add the pumpkin, garlic, shallot, chilli, spices and coriander stalks and a drizzle of oil to a roasting tin. Cover with foil and roast in the oven for 30 minutes. After that time, remove the foil and return to the oven for another 30 minutes.
Step 2
Squeeze the garlic out of the skin and add to a food blender along with the rest of the ingredients from the roasting tin. Add the stock, and coconut cream and then blend until smooth. Transfer to a saucepan and simmer for approx. 10 minutes.
Step 3
If you wish to use a hollowed-out pumpkin to serve the soup in, transfer the soup straight into the pumpkin. Alternatively, use deep warmed bowls. To finish, drizzle with olive oil, and top with some toasted pumpkin seeds and a pinch of saffron. Enjoy!
Halloween Spider Cookies (makes 20 cookies)
These cookies are great treats for those trick or treaters that will be roaming the streets of Gargrave come Monday 31st October! Although we can't guarantee they'll be many left for the trick or treaters once you've tried them!

Ingredients
125g unsalted butter (softened)
150g brown sugar
1 egg
1 tsp vanilla essence
220g plain flour (sifted)
1/2 tsp Baking Powder
1/2 tsp Bi-Carb Soda
170g milk chocolate chips
75g desiccated coconut
20 Reese's peanut butter cups
200g dark chocolate
40 candy eyeballs
Method
Step 1
Preheat the oven to 200°C/180°C fan/gas 6, then line a couple of oven trays with baking paper.
Step 2
In a bowl, mix the butter, sugar, egg, and vanilla essence until totally combined. Using an electric mixer is a good idea!
Step 3
Slowly add the sifted flour, baking powder and bi-carb and mix thoroughly. Then add the milk chocolate chips and coconut flakes.
Step 4 
Place approx. 1 tablespoon of the mixture onto the lined baking trays. Make sure there is a good distance between each dollop. Then bake for approx. 12-15 minutes or until just coloured. Allow to cool on the trays before removing.
Step 5
Using some melted chocolate, glue on a Reese's peanut butter cup to the centre of the cookie to form the spider's body.
Step 6
Then, using some more melted chocolate, form 6 legs coming off the body section. You can do this by dragging a small dollop with a cocktail stick, or by using a piping bag. 
Step 7 
Finally, stick on a couple of melted eyeballs to the front of the Reese's peanut butter cup, as shown in the picture.
Halloween Punch
Okay, so this one definitely isn't for the kids, but if you're hosting a Halloween party, or just fancy a naughty treat, this punch certainly packs, well, a punch! It's a great one to have in the centre of the table for people to ladle in themselves!
Ingredients
500 ml pomegranate juice
350 ml pineapple juice, chilled
350 ml white rum
150 ml Monin grenadine syrup
100 ml fresh lime juice
10 canned lychees, drained
50 g seeded raspberry jam
10 large blueberries
100 ml pomegranate molasses
6 drops red food colouring
Method
Step 1
Mix the pomegranate juice, pineapple juice, white rum, grenadine syrup and fresh lime juice in a large jug or bowl, then put in the fridge to cool.
Step 2
Fill the lychees with raspberry jam, the insert a blueberry into each one. Don't worry if a bit of the jam oozes out as this creates the look of veins in the eyeballs! Skewer onto a cocktail stick and set aside for later.
Step 3
Pour the pomegranate molasses onto a saucer and combine with a couple of drops of red food colouring.
Step 4
Dip the rim of the glasses into the molasses. Turn the glass so the excess molasses runs down the side of the glass. Pour the punch into the glasses then place the cocktail stick with the lychee eyeball across the top. Done!
We hope you enjoy making one or more of these recipes. And remember, take a photo, and let us see your creations. You never know, we might even get to sample them when we're out trick or treating in Gargrave…!
Thanks for reading, have a spooky Halloween!
The Masons Arms team