We're flying through Summer at a rate of knots, and what a Summer it's been so far! Two heatwaves and counting, the Commonwealth Games have been and gone, and England's long wait for European glory was ended by the simply wonderful England Women's Football Team, at Euro 2022. Obviously, all the sun we've been having is great for some, especially those who haven't been able to get abroad on holiday this year, but the heat also comes at a cost for some of our farmers and food producers not just in Gargrave but across the country, who are all praying for a bit of the wet stuff to fall!
Image: View from the front of The Masons Arms, Gargrave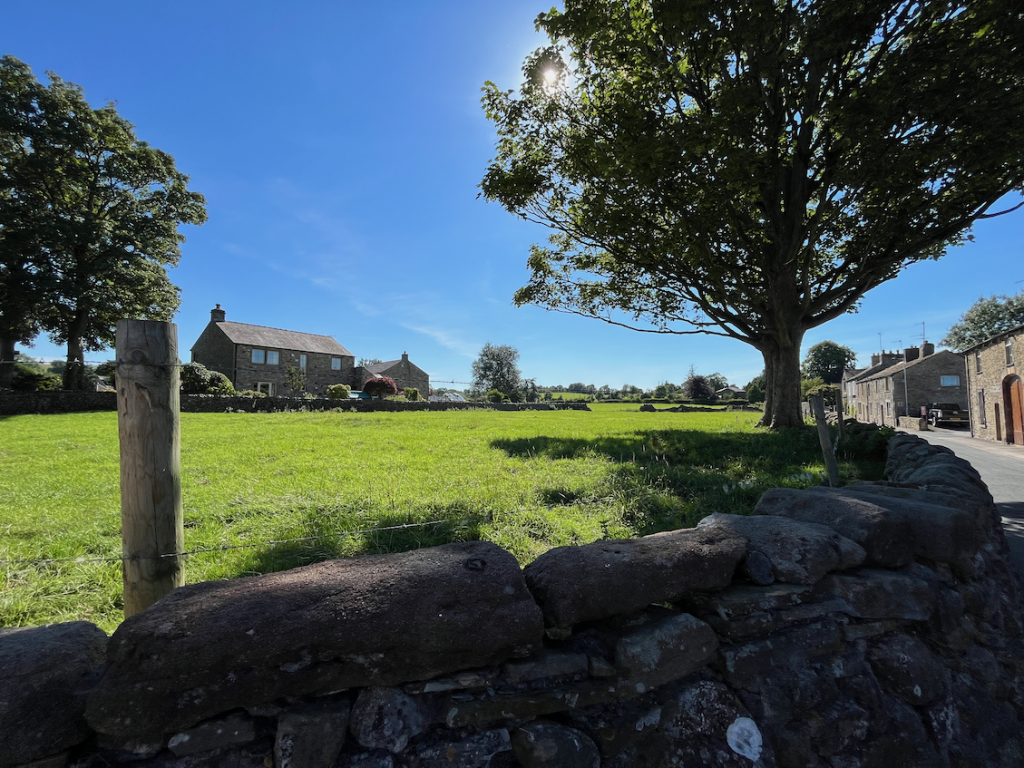 On the subject of food, for this month's blog we thought we'd give you an insight into our Masons Arms kitchen! Our head chef, Chris, has been working hard as usual, serving the best of local produce to our hungry diners, who for the most part have been able to enjoy eating Al Fresco for a change! Our Spring/Summer menu has been in for a while now, and our thoughts have even turned to putting together the Autumn/Winter menu… more on that at a later date! But for now, we asked Chris which dish he wanted to cover for our August Blog, and straight away he said the ever-popular Chicken & Wild Mushrooms with Garlic Cream Sauce, from the Seasonal Specials section of our Main Menu.
We'll give you the full recipe so you can give it a go at home, and we've also recorded a video of Chris cooking the meal from start to finish, so there really is no excuse to not give it a whirl yourself!
Chicken & Wild Mushrooms with Garlic Cream Sauce
What's great about this dish its simplicity, you can count the main ingredients on one hand, but when it all comes together it really does taste outstanding. If you enjoy big rich flavours, and a touch of indulgence, this is the meal for you. We serve it with creamy mash potatoes and seasonal greens, but it's really up to your personal preference. It would work equally well with some sautéed potatoes and honey & rosemary roasted carrots for example. So here goes…
Ingredients (to serve 2 people)
Olive Oil
2 Chicken Breasts
Mixed Wild Mushrooms (either Fresh or Dried)
3 Garlic Cloves (minced)
200ml Mushroom Stock
250ml Double Cream
Sea Salt and Cracked Black Pepper
Method
Step 1
Preheat oven to 200c /180c Fan / Gas Mark 6. Put a heavy based frying pan on a medium/high heat. Meanwhile, trim the chicken breast of any sinew, then butterfly the breast by slicing along the inner side of the chicken to create a 'butterfly shape'. This increases the surface area of the chicken so we can get more of those lovely crispy bits, as well and allowing it to cook quicker.
Step 2
Put a splash of olive oil in the pan and allow to heat through for a few seconds. Add the butterflied chicken breasts to the pan and season with sea salt and cracked black pepper. Make sure you give the breasts enough time to crispen up before turning. We're just adding colour at this stage so don't worry if the chicken isn't cooked through. Once the chicken is golden brown on each side, transfer onto an oven tray and place in the oven for 12 minutes.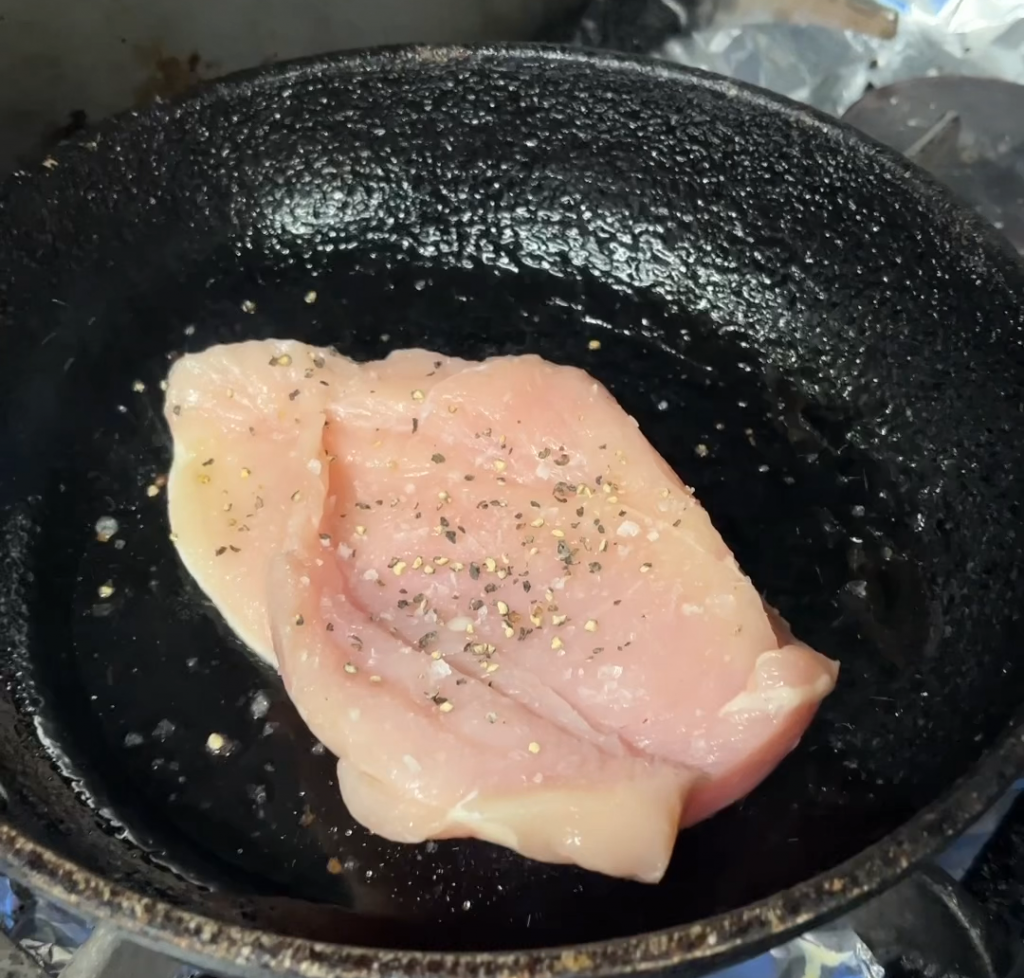 Step 3
While the chicken is cooking in the oven, turn the pan down to low and add a splash more oil or butter to the same frying pan you cooked the chicken in. Add your wild mushrooms and fry off. If using dried mushrooms, make sure you soak these first in boiled water and keep the mushroom stock for later. Once the mushrooms have taken on a bit of colour, add in the minced fresh garlic, or a tablespoon of garlic puree and cook out for a couple of minutes.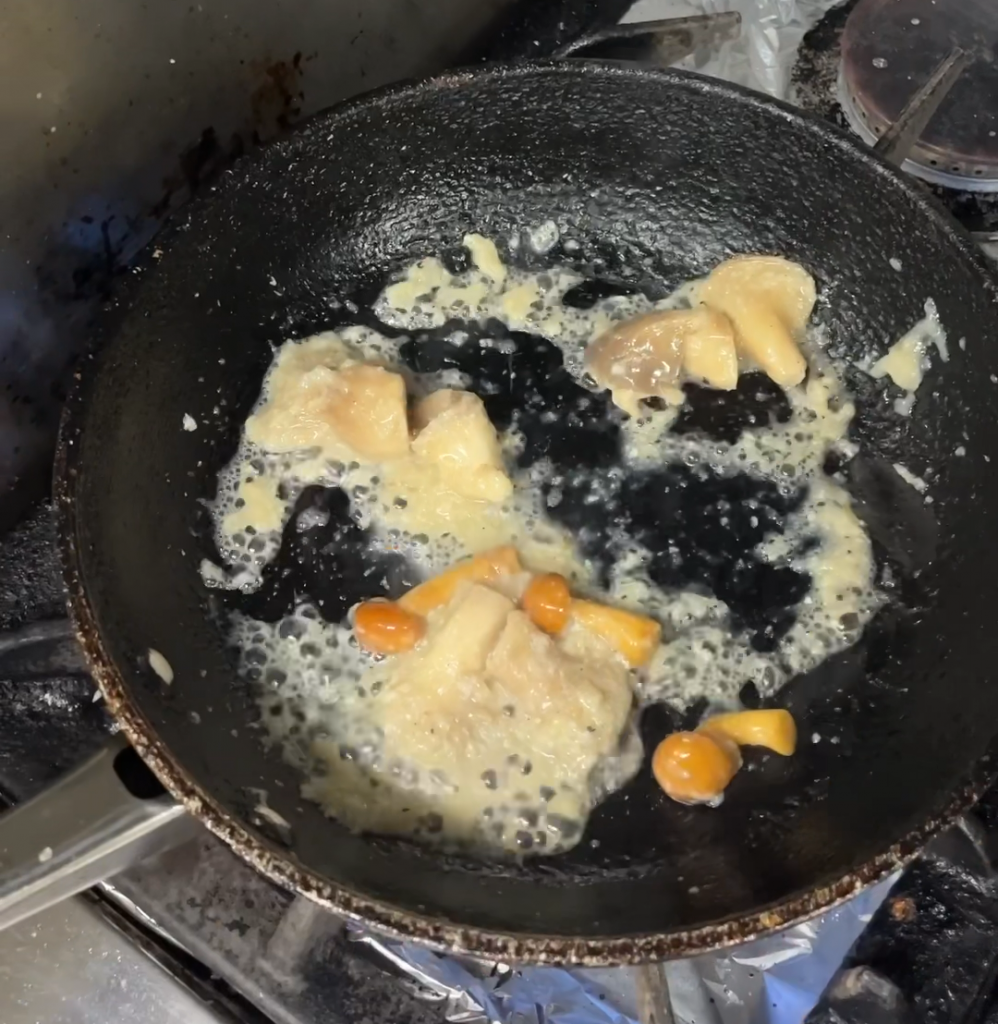 Step 4
Once the garlic is cooked through, add in the double cream and bring up to a simmer. Once simmering, add in the mushroom stock and bring back up to a simmer. Gently simmer the sauce until the chicken is cooked and the sauce has thickened. A good tip to check the consistency of the sauce is to dip a spoon into the sauce and run your finger horizontally across the back of the spoon. If the line holds, the sauce is the correct consistency, if the line breaks, continue to reduce the sauce a little longer.
Step 5
Once the chicken is cooked, remove from the oven and slice into strips. Then add the chicken to the sauce and lace through to combine the ingredients together.
Step 6
To serve, we suggest a good helping of creamy mash potato, alongside some seasonal steamed greens such as broccoli, savoy cabbage and asparagus. Finish with a drizzle of pesto if desired, and enjoy!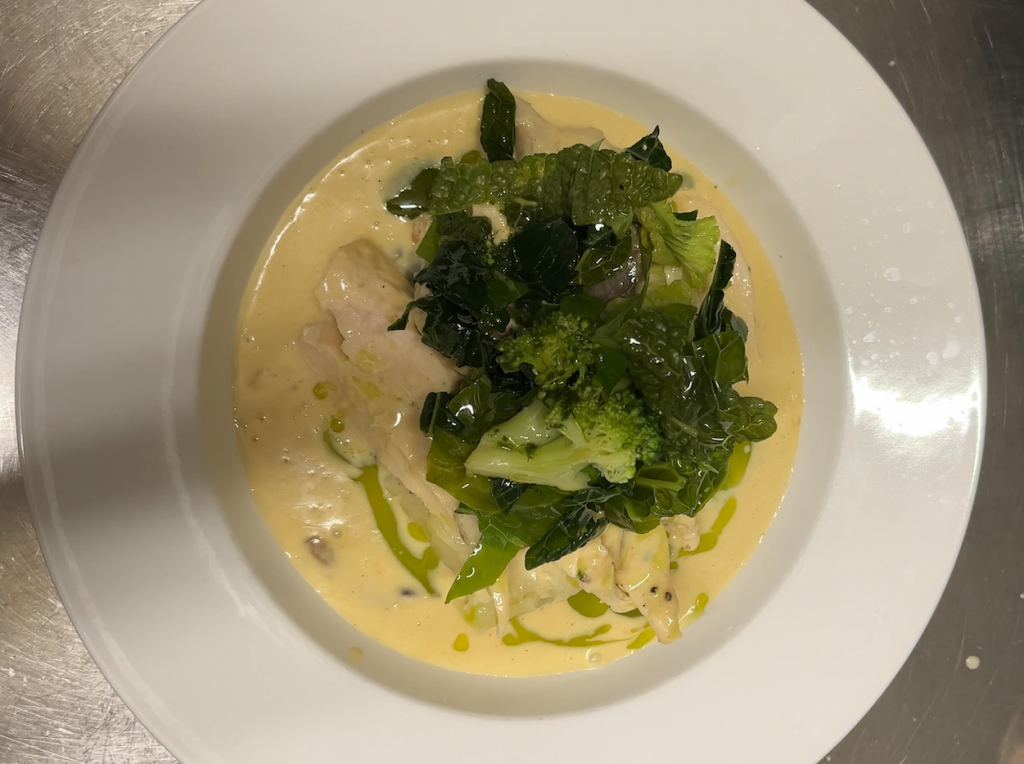 Conclusion
We hope you give this one a go, and don't forget to take a photo and let us know what you think over on our Facebook page. Here at The Masons Arms in Gargrave, we like to think we serve some of the best pub food not just in Gargrave, but also in Skipton and the Yorkshire Dales. We'll continue to use the best seasonal produce from our local suppliers, and watch this space for some more recipes, straight from our kitchen at The Masons!
For now, thanks for reading.
John, Nic and The Masons Arms Team, Gargrave