So, The Queen's Jubilee has finally arrived and there's lots to look forward to during the unprecedented June four-day weekend! Not least the guilt-free indulgence of party food and drink, sweet treats, and celebrations, which let's face it, would be rude to turn down. So, we thought we'd run through some party food and drink ideas to get you in the spirit of things, whether you're 'going large' on the celebrations and having a garden party at home, or keeping things low key and simply raising a glass to Her Majesty.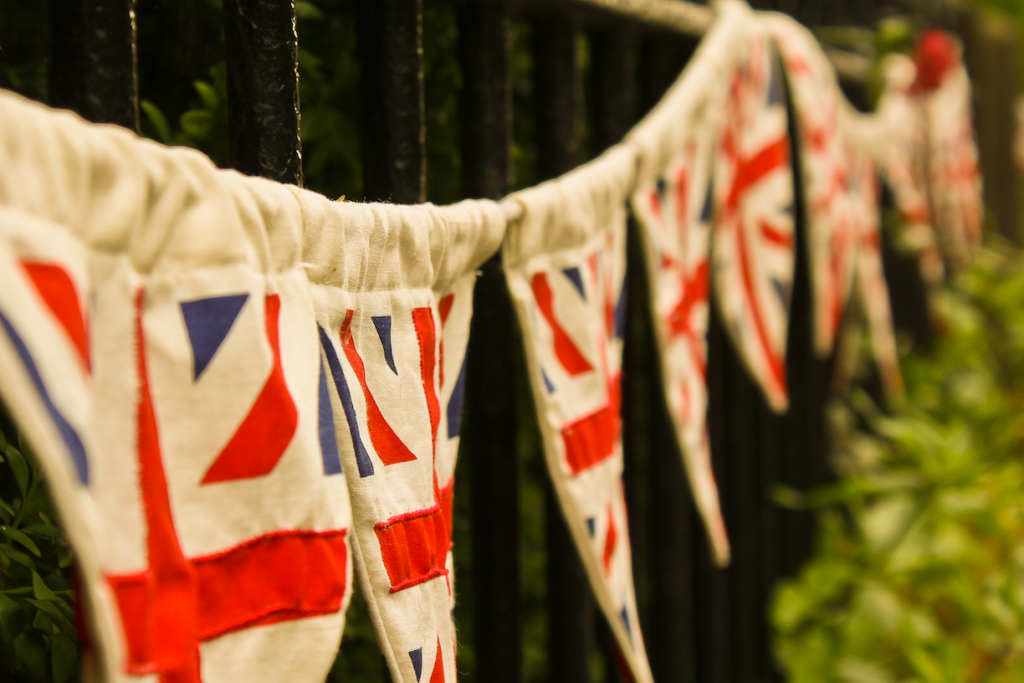 What's going on locally?
Let's start by briefly mentioning what's going on in Gargrave village to mark the occasion. We have the Royal Coffee Morning on Friday 3rd June at Gargrave Village Hall from 10am to 12:30pm. There will be Royal memorabilia and books on sale, as well as homemade cakes to enjoy with a cuppa! Proceeds from the memorabilia and books will be in aid of Manorlands, so a brilliant cause to get behind.
There's also the Jubilee Family Funday taking place at The Village Green from 1pm on Sunday 5th June. There's all sort going on for the whole family, but a great event especially for the young ones. There'll be a face painter, bouncy castle, duck race, children's games and even a dog show to enjoy! And if you really want to get in the spirit of things, Royal Fancy Dress is optional!
Party Food & Drink
Coronation Chicken Salad
As we write this, the weather over the weekend looks like it's going to be nice and sunny, so those back garden parties might not get rained off after all… we can but live in hope! Anyway, what better dish to have on your buffet table than the Queen of all royal recipes, Coronation Chicken. This is a modern take on the traditional recipe which was originally invented for the Queen's Coronation back in 1953, and it's a great one to put in the centre of the table for people to just help themselves to. If the sun stays out long enough to fire up the BBQ, we recommend you cook the chicken thighs on the BBQ. If not, the oven will have to do!
Ingredients
Meat
8-10 skinless, bone-in chicken thighs
2 tbsp madras curry powder
2 tbsp sunflower oil
Dressing
50g mayonnaise
100g thick Greek yogurt or full fat natural yoghurt
Small bunch mint, roughly chopped
4 tbsp mango chutney
4 spring onions, finely chopped
Grated zest 1 lemon
Salad
250g beetroot, peeled
1 tbsp olive oil
Juice ½ lemon
1 tbsp honey
1 small radicchio or red endive, leaves separated
4 peaches, sliced into rounds or chunks
1 cucumber, cut into ribbons with a peeler
80g pea shoots
Small bunch coriander, leaves picked
2 ready to eat poppadoms, broken up
Method
Heat the oven to 200°C fan/gas 7. Massage the curry powder into the chicken thighs a good 1-2 hours before cooking. Before putting on the BBQ or in the oven add salt and sunflower oil, then cook for approx. 30-35 minutes until cooked through. If barbequing the meat, ensure the charcoal is white hot. Move away from the intense heat for the final part of cooking, or if cooking in the oven transfer to the grill for a final 10 minutes to crisp any skin and char the meat slightly.
Meanwhile mix all the dressing ingredients and season well.
Slice the beetroot into 5mm slices. In a bowl, toss the beet slices with the olive oil, lemon juice and honey, then leave to marinate while the meat finishes cooking.
To finish the salad, spread the radicchio/endive over a platter. Drizzle with half the dressing and top with the peaches, cucumber and pea shoots.
Cut the warm chicken thighs into pieces with a strong knife, then arrange over the salad. Sprinkle over the coriander and poppadum pieces, then serve with the remaining dressing.
Lemon and Swiss Roll Amaretti Trifle
It wouldn't be a proper Royal celebration without a good old-fashioned trifle, and The Platinum Jubilee is no different. The official dessert of the jubilee is in fact a Lemon and Swiss Roll Amaretti Trifle which was created by Jemma Melvin after she entered a nationwide competition to craft a new pudding to commemorate the Queen's 70-year reign, beating off competition from over 5,000 people aged 8 to 108! The dessert will join other royal-inspired dishes which are now part of our everyday lives such as the above-mentioned Coronation Chicken, as well as the classic Victoria Sponge. The trifle itself is made with layers of lemon curd Swiss roll, custard, jelly, a mandarin coulis and amaretti biscuits. Here's a link to the recipe if you want to give it a go, we must warn you though, there's quite a few ingredients…! Lemon and Swiss Roll Amaretti Trifle.

Jubilee Punch
There's something about punch that just screams party isn't there. If you've got friends and family over this bank holiday, getting a big bowl of punch on the table with a big old ladle plonked in it is sure to go down well with all your guests. There's too many delicious classic recipes to go through here (I'd need a bowl of punch all to myself if I was to attempt that!), but here's a few of our favourites which we think will go down very nicely, and we've popped some links to the recipes here as well.
Summer Punch – with flavours of Lemon, Apple and Elderflower
Pimm's  – a classic and it's easy! With flavours of Mint, Orange and Strawberry
Jubilee Gin Punch – made with your favourite Gin as a base, with flavours of Earl Grey, Elderflower and Nectarine
Summery
We hope you've had some inspiration from the above ideas and recipes. Of course, we'd love to see you in The Masons Arms as well, over the long bank holiday weekend of celebrations. We'll be open as usual, the beer garden will be waiting for you and the bunting will be up! One of the best things about living in a village like Gargrave is when the village community comes together to celebrate national events like this one, so we hope to see as many of you as possible so we can hear all about how you've been celebrating!
Thanks for reading!
The Masons Arms Team