We're British, so we don't like to blow our own trumpet too often! But this month we really wanted to shine a light on some of the positive feedback we've received, both verbally in the pub, on social media, and on TripAdvisor. Every bit of customer feedback we receive, good or bad, means so much to us because it tells us what we're doing is either meeting your expectations, or shows us areas where we need to improve.
Customer reviews are crucial for the hospitality industry because they can directly impact a restaurant and pub's reputation, visibility, and ultimately, its success. Gargrave being such a small village means that as a business we have to rely on more than just our valued local trade. Of course, serving our local regulars is our bread and butter, and we appreciate that even though Gargrave is such a small village, there is still choice when it comes to pubs! So, you choosing us means that much more when we know you have consumer choice. Being a 'destination' pub for tourists and people who live further afield is imperative for us to be sustainable as a business, and that's why having positive reviews online can make such a difference. It's also great for our teams to get the recognition they deserve.
So, without further ado, let's dive into some of our recent reviews!
Freshly made food – TripAdvisor Jane-tipsy1
We love this one from Jane-tipsy1, and we love the TripAdvisor handle as well! As Jane points out, all our food is freshly made which is something our head chef Chris and his team pride themselves on!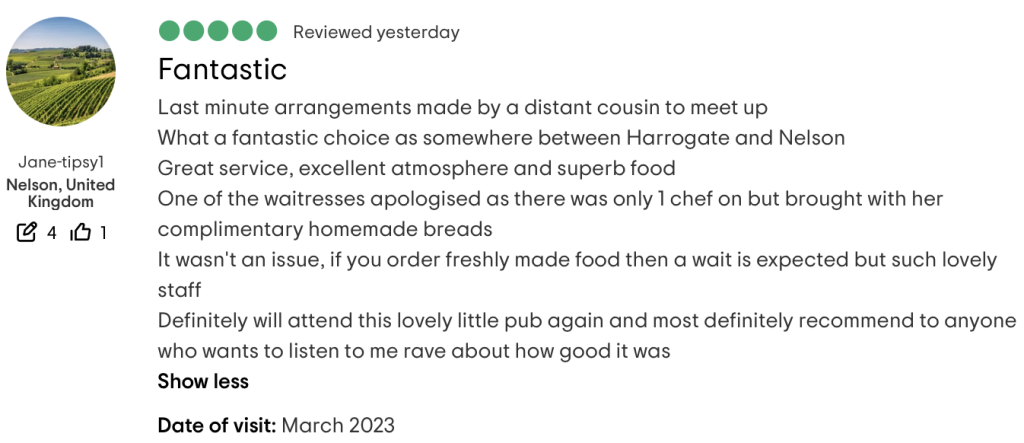 Yapas anyone?  – TripAdvisor Paul W
A dish that has fast become one of our favourites here at the Masons Arms is the Yapas, i.e. Yorkshire Tapas. Consisting of a Homemade Scotch Egg with HP Sauce, Haddock Goujons with Tartare Sauce, Black Pudding Fritters with Apple Sauce, Yorkshire Pudding Dippers with Ale Gravy, Chipolatas Sausage with Honey Mustard Glaze, Homemade Pork Pie Slice with Yorkshire Caviar. And it looks like Paul washed it all down with a pint of Yorkshire's finest as well, Timothy Taylor's Best. A dream combination if you ask me!


Wow Wow Wow!!!  – TripAdvisor marc7242
The title of this particular review really does speak for itself! The open fire does get quite a few mentions in other reviews though, so much so that I'm thinking about putting it on the books! Hopefully as we head into warmer climes, we won't be needing it as much though… The conclusion to Marc's review has summed up perfectly, not just The Masons Arms, but the whole of the hospitality industry. Every single member of the team has an equally important part to play, "from front of house to the pot wash" to quote Marc's kind words.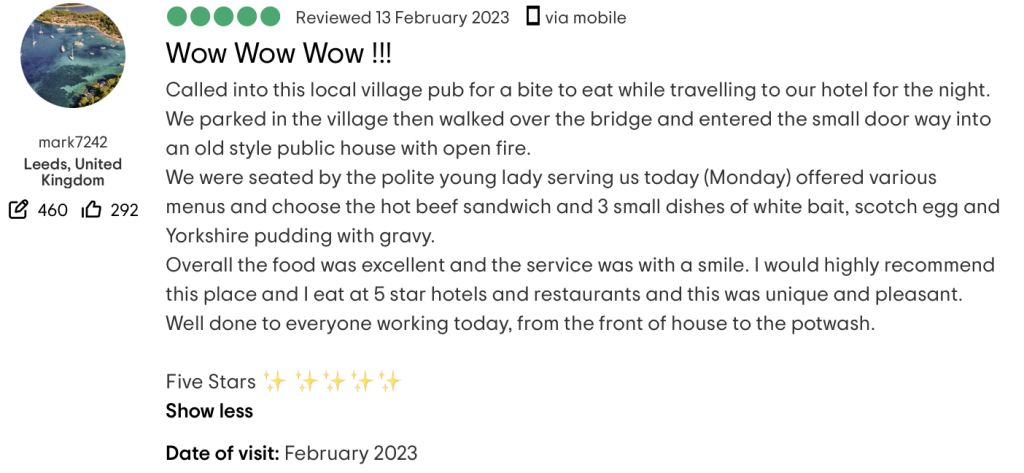 There's no denying how important TripAdvisor can be to any business in the hospitality industry, but social media also plays a huge role. We love it when people 'check in' to the Masons on Facebook and feel strongly enough about their experience with us to share it with their friends and followers! Here's a selection of recent comments on our Facebook page.
Hopefully you enjoyed sifting through our reviews as much as we did! Of course, if you've never been to The Masons Arms, hopefully some of these comments could encourage you to come and give us a try. We hope to see all our loyal regulars soon, and maybe even a few new faces as well.
Thanks for reading!
The Masons Arms Team