In our humble opinion, The Masons Arms in Gargrave is situated in one of the most idyllic spots in the country. The village of Gargrave itself is a small community hub, with thriving local businesses, and plenty of local folk with huge personalities to go along with it! Not far from our little village is the town of Skipton, 5 miles down the road by car to be exact, or if you feel like a gentle walk, there's the picturesque Leeds & Liverpool Canal. You can take a jaunt down the towpath which takes you directly into the heart of Skipton. Skipton is known as the Gateway to the Dales, which is very apt because within a few minutes drive you can be surrounded by nothing but rolling countryside, and nothing to hear except the odd bleat from a nearby sheep! There are so many things to do in and around the local area, so let's get into our recommendations for "must do's" when staying with us in Gargrave.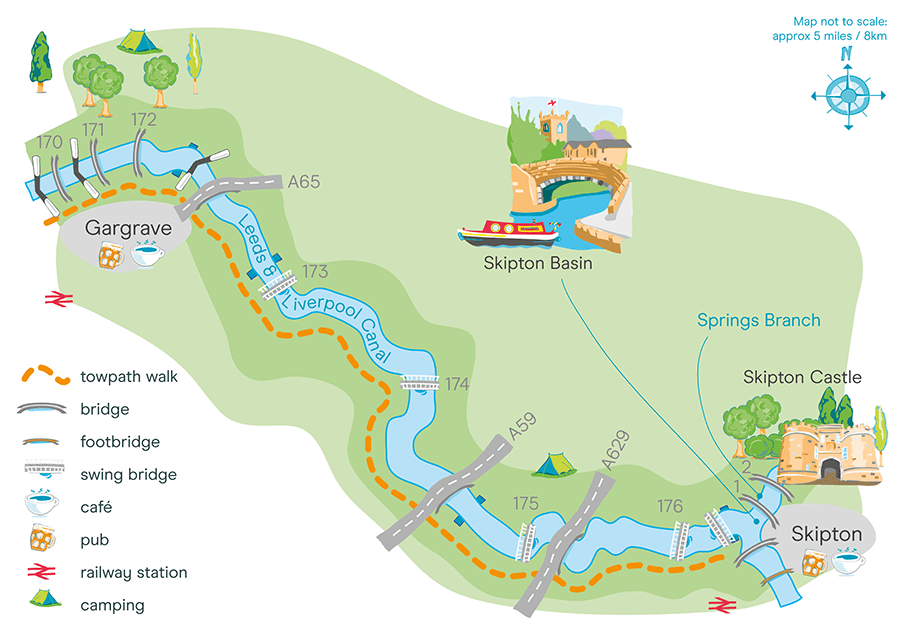 Explore the Pennine Way
We're incredibly lucky that the beautiful Pennine Way is right on our doorstep and passes right through Gargrave village. We have visitors stay with us from all over the country, who come solely to walk the famous Pennine Way. As far as the route goes, Gargrave village sits between Earby and Malham, and by the Pennine Way's standards both directions offer some rest bite from the hills of the whole route, and even incorporates the Leeds & Liverpool canal if you head in the direction of Earby. Either way offers gentle walking conditions, but if you are to head in the direction of Malham you'll find a picture postcard village, the perfect stop off for lunch and an ice-cream before heading back. Before you do though, it would be amiss not to check out the famous Malham Cove and the spectacular limestone pavement atop. The route is around 7 miles each way, so you'll be more than ready for a glass of something alcoholic and a plate of homemade Yorkshire food on your return to The Masons Arms!
Skipton Castle and Woods
We don't think anything quite says Skipton like Skipton Castle. It really is the focal point of our nearest town. It's quite an imposing image which sits at the top of the high street. It's widely considered to be one of the most well-preserved medieval castles in England, and you really do have to see it to believe it, you wouldn't think it was over 900 years old! And you don't have to be a history buff to appreciate the grandeur of this amazing piece of architecture either, you really could be on the set of some sort of period drama when you're exploring every inch of it's hidden corridors, Banqueting Hall, Bedchamber, Privy, through to the depths of it's Dungeon and height of it's Watch Tower. Not forgetting of course the Castle Woods which are an attraction in their own right. If you like exploring and walking around ancient woodland, this is the place for you. At the time of writing adult tickets are priced at £10.20, children £6.70, over 65s £9.20 and there's even a family ticket (two adults, up to 3 children) for £34. Children under 5 go free.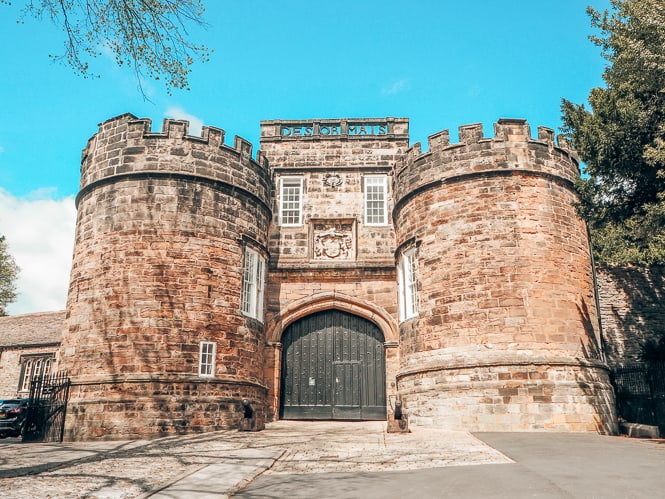 Bolton Abbey Estate
If you're in the mood for a drive out, Bolton Abbey Estate is a must see when in the area. Situated approximately 11 miles from us in Gargrave (around 20 minutes by car), is the ancient ruins of Augustinian Priory with a fantastic backdrop of the river Wharfe. Bolton Priory Church is still a fully functioning church, where people from all over the UK come to tie the knot, owing to it's immense history and beautiful backdrop. Exploring the amazing estate is an absolute must if you're in the area, and there's always lots to do for all ages. Once you've taken in the history of the ruins, you can walk along the banks of the River Wharfe, through Strid Wood and back to have a cup of tea and a slice of cake in the café. Before you leave the estate, it's a rite of passage to cross the famous stepping stones which are so synonymous with Bolton Abbey. There's 60 stepping stones in total which cross the River Wharfe, and for those brave enough there's a wonderful view up the river from the midpoint. For those who would rather take the safer (and sometimes dryer!) route, there's always the footbridge which runs parallel.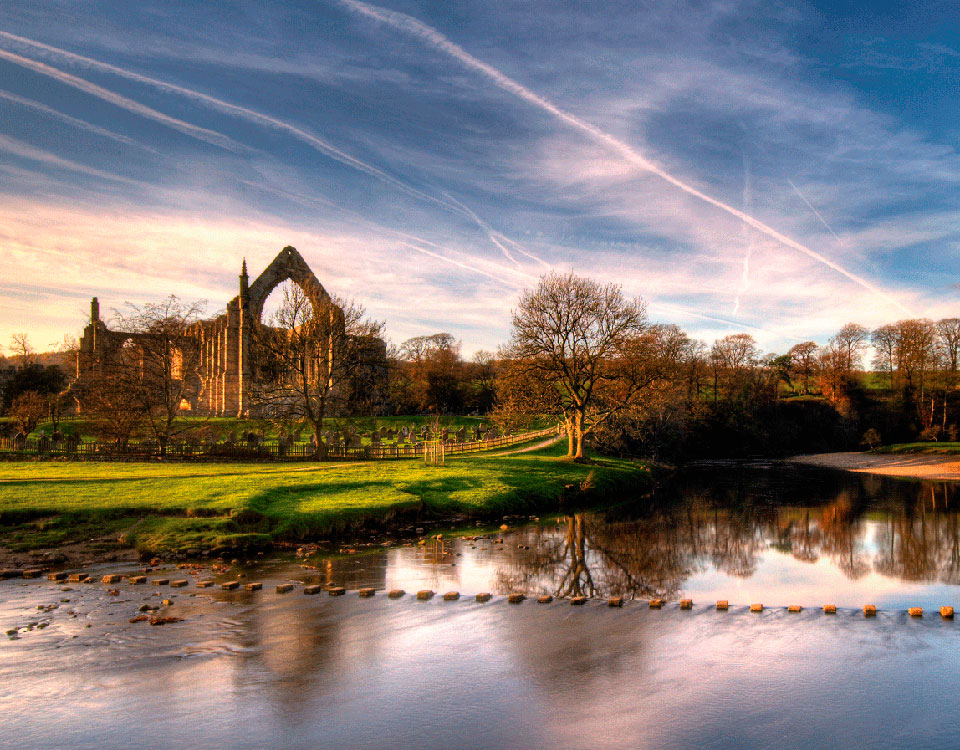 Thornton Hall Farm (a kiddies favourite!)
For those with younger children, Thornton Hall Farm is a must visit. It's located a short drive from us in the village of Thornton-in-Craven. You'll never be short of activities and things to do on this working farm, from feeding the animals, to riding the Caterpillar Train, riding ponies, the Wizzick Safari, through to Quad biking for the slightly older kids! There really is something for everyone here for a fun packed day out. At the time of writing, weekend tickets are priced at £9.95 for adults and children above 2 years old. Under 2s are priced at £6.95 and under 1s go free.
Hire a Narrowboat
We're so lucky to have the Leeds & Liverpool canal pass right through Gargrave village, and we have lots of visitors who moor up and stop off for lunch or dinner in the pub. For those who fancy a relaxing way to spend a day, chugged along the canal in your very own narrowboat could be just the thing for you. Luckily, in nearby Skipton, we are awash with plenty of narrowboat hire companies such as Pennine Cruisers, Skipton Boat Trips and Snaygill Boats of Skipton. You can choose whether to take a public cruise, which would be on a larger boat and be manned with a captain, leaving you to fully relax and take in the surrounding scenery, whilst sipping on a glass of something cold perhaps! Or if you prefer to experience sailing down the canal being fully in charge of your very own vessel, then the day boat hire option could be for you. Pennine Cruisers for example has Summer Season rates starting from £110 for four people, or £170 for up to 10 people.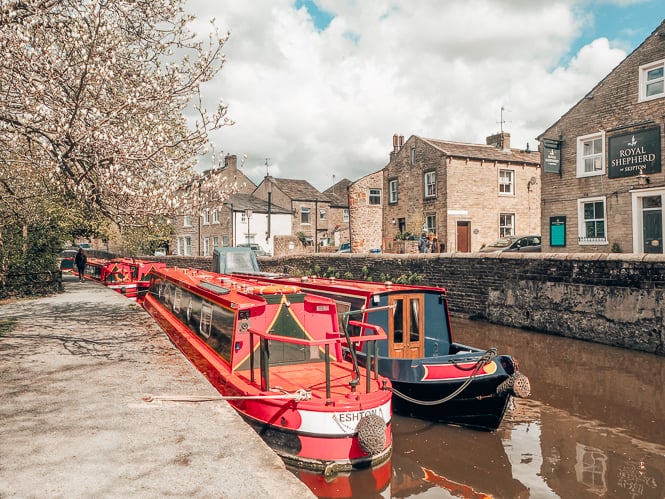 We hope you found the above guide useful, and we look forward to hearing all about your excursions when you return back to the pub for that well-earned rest and hearty meal. Of course, if you want any further advice or information, our team will be delighted to help.
Thanks for reading,
The Masons Arms Team